Sparkling Patriotic Sangria
Sparkling Patriotic Sangria
Posted by Kristin :-) on 20th Jan 2017
Happy Independence Day! In honor of this important day in American history, we found a delicious-sounding recipe for Patriotic Sangria. While I normally test out recipes and make changes, I have to admit that I have not tried this one, but it sounds delicious. The credit for this recipe goes to the blog of Gimme Some Oven, which you can find by clicking here. As usual, I have added some of our products that would be helpful to the preparation and presentation of this recipe.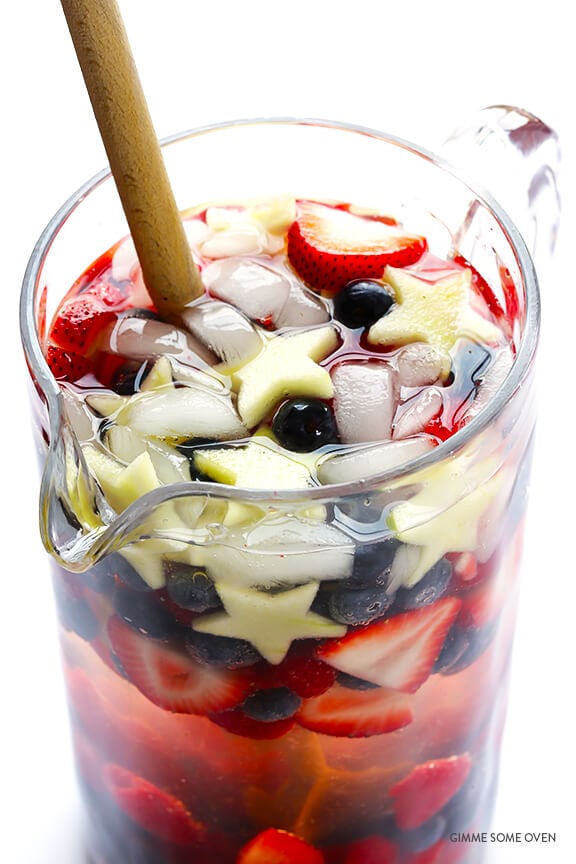 Yield: 8-12 servings
Sparkling Red, White and Blue Sangria
This Sparkling Red, White and Blue Sangria recipe is fun, delicious, easy to make, and guaranteed to be the hit of your patriotic party!
Prep Time: 10 mins
Cook Time: 0 mins
Total Time: 10 mins
Ingredients:
1 bottle dry white wine (I used chardonnay)
2 cups (1 pint) fresh blueberries
1 cup fresh raspberries
1 cup apple juice (or white grape juice)
1 pound fresh strawberries, hulled and sliced
1 bottle champagne (or any variety of sparkling white wine)
3-4 Granny Smith apples (*or see alternatives below)
ice
Directions:
Stir together:
Cover and refrigerate for 1-4 hours, so that the flavors can meld. (Heads up that the longer the mixture sits, the more red it will become.)
When you're ready to serve the sangria, gradually stir in the champagne and apples and ice. Serve immediately.
If you cut the apples, or other white fruit into stars, like in the picture above, there is a star-shaped cutter in this set:
*Other options for the "white" fruit could include fresh pears, jicama, pineapple or starfruit.
**If you would like the tiered red, white and blue presentation in individual glasses that I used, just add extra red berries to the bottom of empty serving glasses, followed by a layer of blueberries, then strain out the sangria wine, and add some apple stars on top.
Have a great day and enjoy your sangria!
comments powered by

Disqus